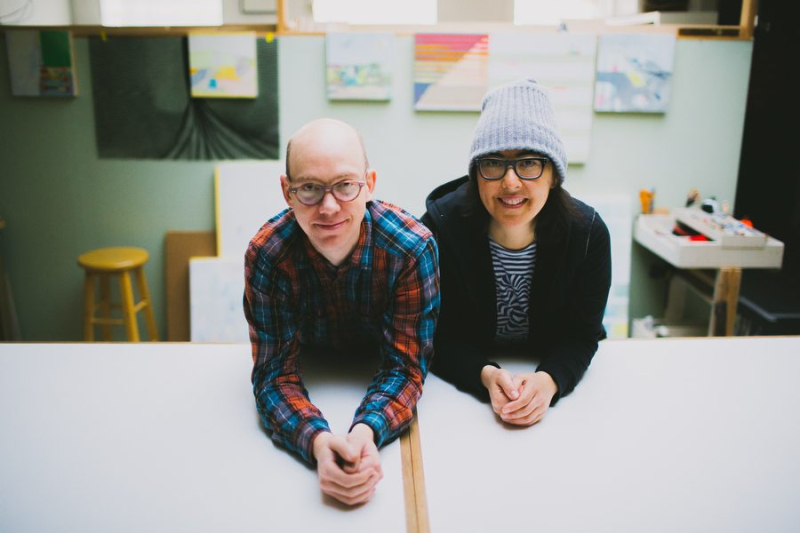 Sonnenzimmer - Closing Reception
with Emily Christensen
Free
Meet the Chicago-based print duo of Nick Butcher and Nadine Nakanishi, and enjoy their closing reception, which will include live performances, on-site screen printing, and other shenanigans.  Known for their fearless experimentation and boundary-busting approach to art-making, Sonnenzimmer describes their work as "finely applied graphics," pointing out that "the graphic arts predate the siloed genres of fine and applied" art. While blurring boundaries between art and design is common in contemporary art, Sonnenzimmer is unique in that they mess with every medium they touch, and whirl it all together. 
Early in their practice, Sonnenzimmer gained international acclaim for their playful screen-printed posters for experimental bands like Edward Sharpe and the Magnetic Zeros, Dearhoof, and Cocorosie. Yet, their broad, genre-defying appeal is evident in clients like Chicago Symphony Orchestra, the Newberry library, Human Rights Watch, and Facebook. They've lead lectures and workshops at Yale University, California Institute for the Arts, The Art Institute of Chicago, Pratt Institute, Minneapolis College of Art and Design, and Aalto University in Helsinki.  Find more info about this exhibit, curated by Tori Pelz for the Saugatuck Center for the Arts HERE.
We will meet at the Treehuis parking lot off 7th St (behind Loker Shoes 31 E 8th St) at 5:45. If you need a ride to the meeting place from home, please let us know when you register.  If you are meeting us at the Saugatuck Center for the Arts, we will plan to arrive there at 6:30. We'll return to the Treehuis parking lot at 8:30; please plan to pick up your student there, or let us know if they need a ride home.
May

17th

,

2019

Fri

for

1 week

from

6:30 - 8:00 pm

Will run
Saugatuck Center for the Arts
400 Culver St.
Saugatuck, MI 49453 Get directions